Transforming Every Guest's original web video project took a big step forward at the end of April with an initial film shoot. From this footage, we will be able to create a pitch video for the project for our eventual funding campaign. We are making progress, but this project needs prayers, community involvement, and financial support to become a reality. If you'd like to support this project, please get in touch.
The creative team at
Transforming Every Guest
are pleased to announce the title of our forthcoming web video series:
Break into Song:
A hands-on guide for renewing your congregation's voice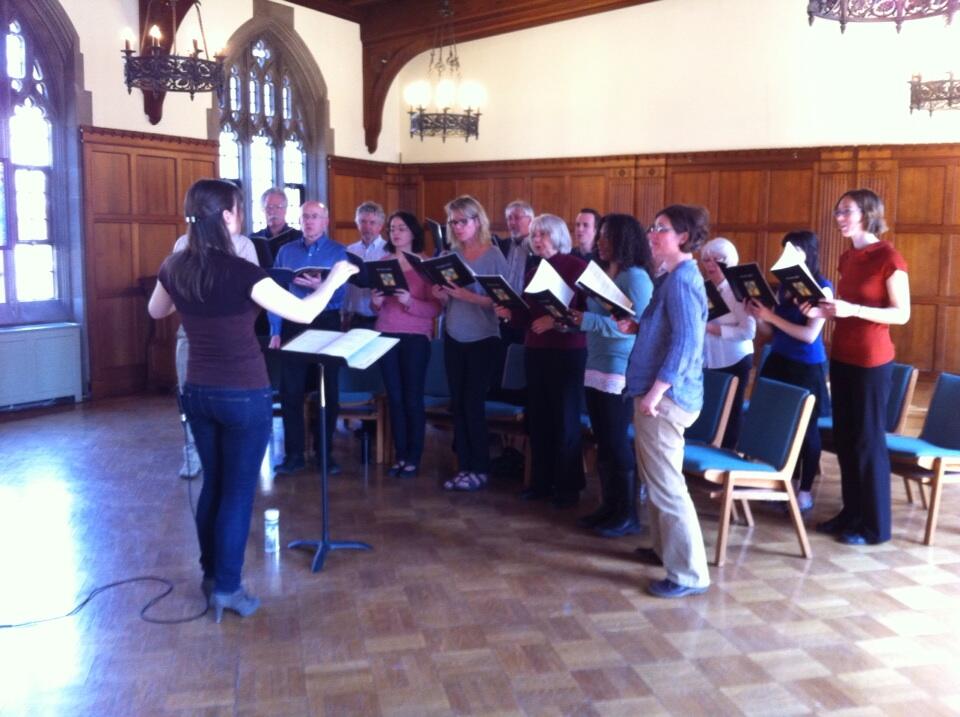 This is an original project of
Transforming Every Guest
, with the goal to provide church musicians, ministers, and friends of congregational song with a high-quality, free, accessible tool for breaking open new songs and teaching them effectively in worship. You can read all about the idea for this project
here
.
Having a title is an exciting step as we move toward making this project a reality. I had a lot of help brainstorming different possibilities (thanks, team!), and am really pleased with the way this title sums up the goal of the web series.
A few thoughts on the meaning behind this title:
Part of my inspiration for making this video is the experience I've had knowing church musicians, and being one myself, in North America in the twenty-first century. We are enormously blessed in that there are so many wonderful, rich, diverse, theologically impeccable resources out there stuffed full of great congregational song. We have the money to buy them and the musical training to read them on the page and know what the notes sound like.
But there is so much more to knowing a song than that, and teaching it in community is a whole other thing.
I learn songs best when they have been taught to me by someone. It's like the difference between reading a person's resume and being introduced to them over coffee by a mutual friend. When someone has taught me a song – whether by rote in a group setting, or by going over the tricky bits in the score with me, or by showing me that great groove at the keyboard/on the drums/on the guitar that makes the song come together – that's when a song on the page becomes a familiar friend. There is a liturgical theology in there somewhere: the Word became flesh and lived among us, and we must embody songs for one another so that they can live within our communities.
Another aspect of the meaning of this title is its resonance with a recent article by Canadian writer and Presbyterian minister Andrew Fullerton, "Breaking into Song: Divine Drama on a Human Stage." I suggest you drop everything and go grab The Hymn volume 64, no. 1 (Winter 2013) and read it. Having thoroughly highlighted and dog-eared it, I am now going to file it under "articles I wish I wrote."
Fullerton's reflections on the resonances between liturgy and theatre (to totally inadequately summarize the gist of this article) resonate deeply with what I see as the larger aim of this website and blog. Fullerton explains that the sounding body – whether the person playing the piano, the stage performer, or, I would argue, the congregation engaged in song – is "the medium for sounding forth the music that lies silently behind the notes on a page" (15).
Fullerton cautions against trite, pandering worship – a trap into which, I would argue, we fall more easily than we imagine – which is similar to escapist, box-office-bloating popcorn theatre – which "trades enchantment for entertainment, purchasing applause at the cost of truth" (15). Fullerton warns us that this kind of theatre, and this kind of worship, misses its central goal in that "it changes no one" (15-16). It ignores the invitation to transformative action given to us by Christ at his last supper - transforming every guest.
Finally, the title
Break into Song
is a reminder of how powerful it is when a community has a shared body of song which it can sing to express its common longing, anger, or joy. These are the songs that bubble out almost unbidden (without needing to leaf through a hymnal or call up a slide) at the announcement of a birth, the realization that we have balanced the budget for another year, the yearning to be closer to God in a moment of need. A
recent headline in the Toronto Star
, encapsulating a story that was shared across the world, sums up this idea's promise: "New Zealand okays Same Sex Marriage; Politicians Break into Song."
I hope that you will consider contributing to this initiative. If you would like to sign up for project updates, send a message with "subscribe" in the body via our
contact page
. Please also feel free to contact me with any questions, suggestions, and favourite undiscovered congregational song hits!